Product Details
The Mix320-D Personal Mixing System makes it easy to add Aviom monitoring to a Dante-enabled mixing console or audio network. No analog input module or console card is required; inputs get patched directly from your Dante network.
The Mix320-D system includes a D400-Dante A-Net Distributor that allows up to 32 channels to be patched from the Dante network to the personal mixing system inputs. The D400-Dante is also used to supply A-Net digital data and DC power to the mixers. The Mix320-D system includes six A320 Personal Mixer for the performers, plus six MT-1a Mic Stand Mounts for attaching the A320 mixers to mic stands, as well as all the Cat-5e cables you'll need to connect the products.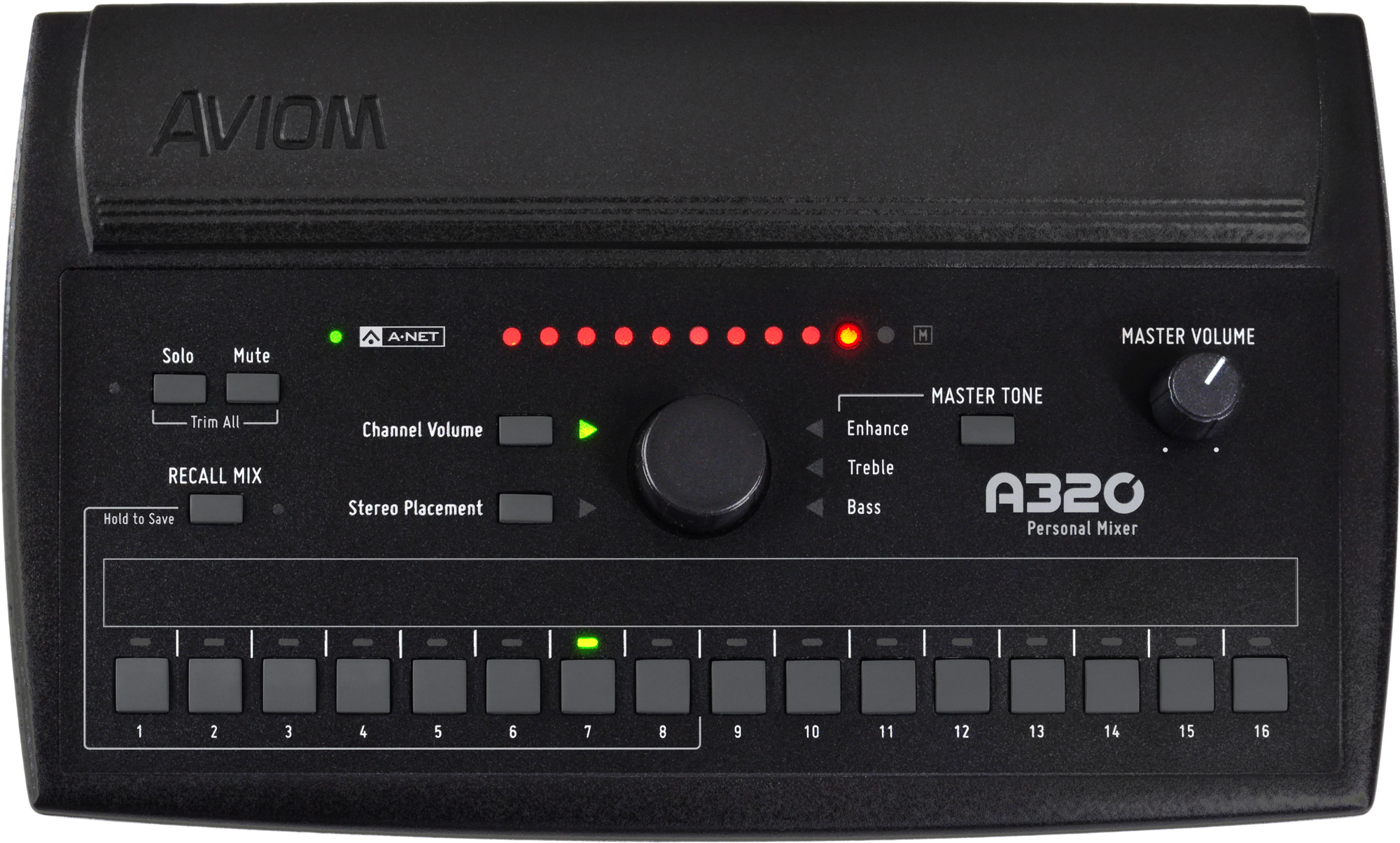 Intuitive Mixing
The A320 Personal Mixer gives performing and recording musicians simple, intuitive control over their monitor mixes. It features a 32-channel mix engine with 16 mono or stereo mix channels buttons and easy to use Stereo Placement controls.
Connect headphones, ear buds, or a wireless in-ear monitoring system to the Personal Mixer and you're ready to start mixing.
Distribute Power and Audio Over Cat-5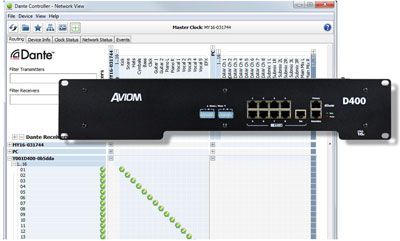 For distributing the A-Net digital data and DC power to the A320 Personal Mixers, the system includes the D400-Dante A-Net Distributor.
The D400-Dante also serves as the system's input device; it allows up to 32 channels from your Dante network to be assigned to the eight powered A-Net ports on its front panel. Stereo Link switches allow adjacent channels to be treated as a stereo pairs on the A320 Personal Mixers where they will appear on a single mix channel button.
System Options
The Mix320-D system uses a Dante network for its inputs. If you use a digital console, check out the Mix320-Y Personal Mixing System which includes a Y1 card for Yamaha® consoles for its inputs. Or, if you have an analog console or recording system, the Mix320-A Personal Mixing System is what you need. It includes the 16-channel, line-level AN-16/i Input Module as its front end.
The mixing system packages are also easy to expand when you're ready - just add more Personal Mixers and A-Net Distributors as needed.