Mix320-A
Product Details
The Mix320-A Personal Mixing System features the analog AN-16/i v.2 Input Module as the front end of the system, a D400 A-Net Distributor to supply A-Net digital data and DC power to the mixers, and six A320 Personal Mixers for the performers. It also includes six MT-1a Mic Stand Mounts for attaching the A320 mixers to mic stands, as well as all the Cat-5e cables you'll need to connect the products.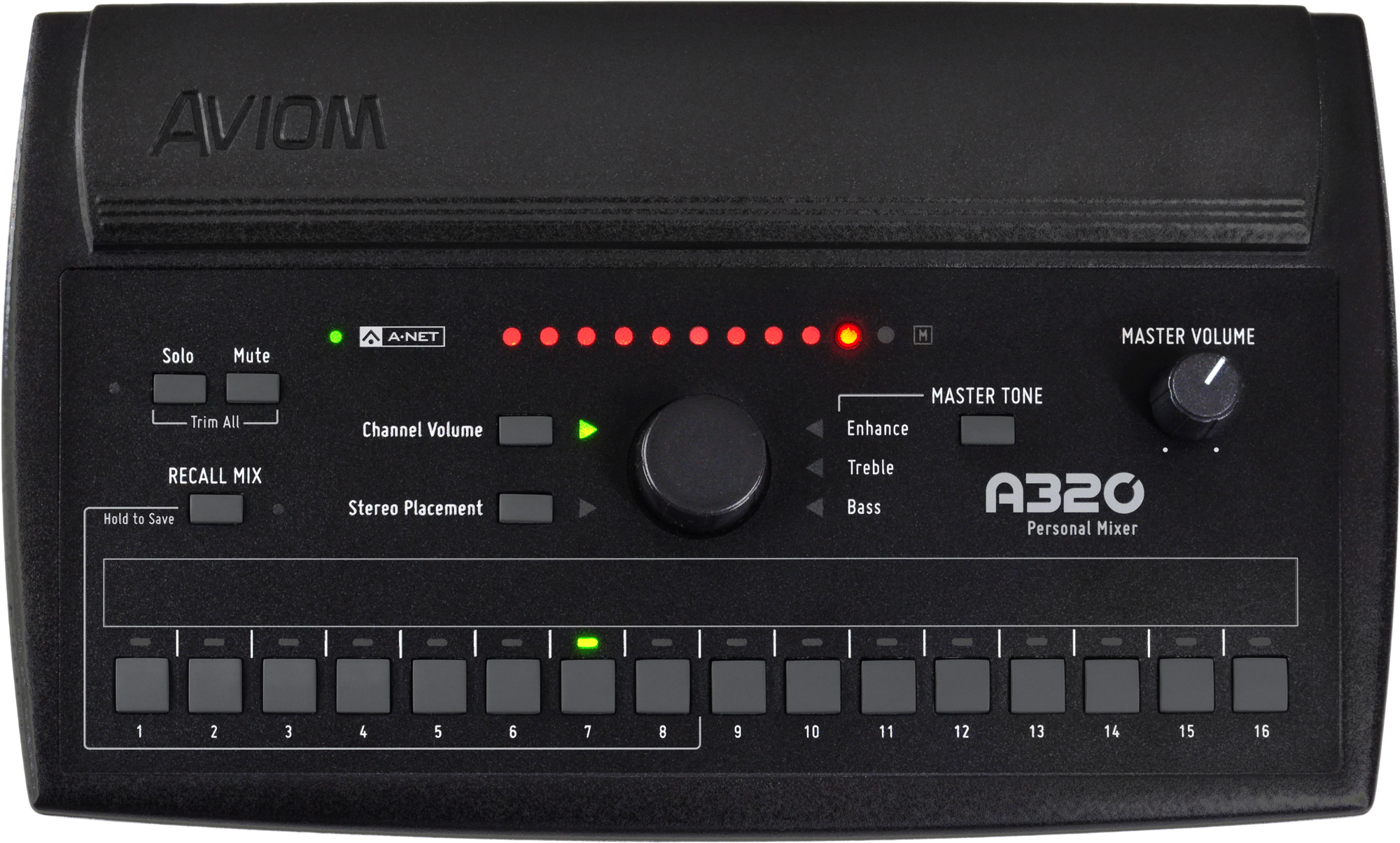 Intuitive Mixing
The A320 Personal Mixer gives performing and recording musicians simple, intuitive control over their monitor mixes. It features 16 mono or stereo mix channel buttons, individual volume controls, and easy-to-use Stereo Placement controls. Connect headphones, ear buds, or a wireless in-ear monitoring system to the Personal Mixer and you're ready to start mixing.
Analog Front End

The analog AN-16/i v.2 Input Module allows up to 16 line-level signals to be connected as the inputs to the personal mixing system. Each channel features a 1/4-inch TRS balanced input and thru jack that make it easy to interface with direct outs, aux sends, or insert points on your mixing console or recording interface. Analog audio is converted to 48kHz, 24bit A-Net digital data for distribution to the Personal Mixers.
Power and Audio Over Cat-5

For distributing the A-Net digital data and DC power to the A320 Personal Mixers, the Mix320-A system includes the D400 A-Net Distributor. The D400 has A-Net In and Out jacks plus eight powered A-Net ports for Personal Mixers.
System Options
The Mix320-A system is designed around an analog front end, the AN-16/i v.2. If you use a digital console, check out the Mix320-Y Personal Mixing System which includes a Y1 card for Yamaha® consoles instead of the analog inputs. Or, if you have a Dante™-enabled console or network, the Mix320-D Personal Mixing System is what you need. It includes the D400-Dante A-Net Distributor instead of the D400 and does not require a separate input device or console card.
The mixing system packages are also easy to expand when you're ready - just add more Personal Mixers and A-Net Distributors as needed.