Aviom's Personal Mixers are the worldwide industry-standard for personal mixing on stage and in the studio. The A640, Aviom's new flagship personal mixer, brings an unparalleled level of control, performance, and fidelity to personal mixing that exemplifies Aviom's core brand sensibilities.
With more mix channels, powerful features, and an intuitive, streamlined user-interface, the A640 helps musicians hear better than ever before. It's compatible with all existing Aviom systems using Dante networking, digital console cards, or analog inputs, and can be used simultaneously with the A360, A320 and/or A-16II Personal Mixers.
Intuitive user interface featuring high-res color multi-mix-view display
Customizable channel selection from up to 64 network channels
36-channel mix engine for up to 18 mono or stereo sources
Per-channel volume, treble, bass, reverb, and pan plus Master EQ with Enhance
One-Touch Ambience™ using network audio or the internal mic
Intercom for communicating with other A640 users
Favorite Channel holds each musician's most important channel 
USB for easy archiving and loading custom mixer configurations
1/4" and 1/8" stereo mix out plus XLR mono Aux mix out
Support for Network Mix Back™ (requires a D800)
Mixing power that's easy to use
The A640 Personal Mixer combines a powerful mix engine with an intuitive user interface that doesn't get in your way while performing. The A640's color hi-res display has three Mix Views showing you all the details about your mix without sacrificing editing simplicity. Switch between them at any time with the dedicated View button.
Channel View provides detail about an individual channel's settings (volume, pan, treble, bass, and effects). The Mix View shows the volume level of every channel in your mix, and the Names View displays each channel by name along with its volume level. Editing is easy, even while you're focused on singing and playing.
You can create custom names for each channel, or sync them to channel names coming from a Dante network when using the D800-Dante A-Net Distributor.
Choose exactly the channels you need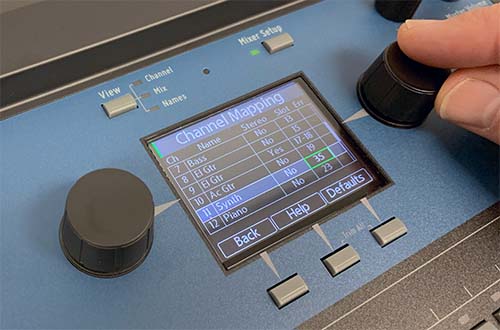 Under the hood, the A640 has all the power you need, so you don't have to make compromises in your mix.
Every user can select exactly the sources they want in their mix—from up to 64 network input sources—so drummers can have lots of drum channels and vocalists can have lots of vocal channels.
The built-in Channel Mapping function makes the A640 Personal Mixer easy to set up and customize to suit your performance needs.