Product Details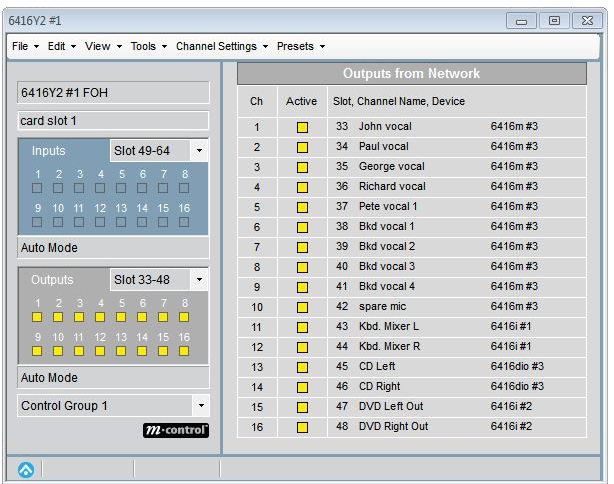 The 6416Y2 A-Net Card supports up to 16 channels in and 16 channels out simultaneously, depending on the Yamaha host product's capacity and the selected system sample rate. Multiple 6416Y2 cards may be used in a single host device (see the table below), providing up to 64 channels in and 64 channels out simultaneously. Inputs and outputs may be assigned and managed by using the free Pro64 Network Manager software. For digital snake applications, the 6416m mic preamp's gain, phantom power, and high pass filter can remote controlled directly from the Yamaha console using m-control™. 
User Control Data Support
In addition, the 6416Y2 A-Net Card supports two interface paths to the Pro64 network's revolutionary Virtual Data Cables™. The card features a front-panel DB9 connector for either RS-232 or RS-422 control data. In certain Yamaha digital consoles (such as the LS9 series), control data can be routed to the card through the backplane connector, as these consoles do not have DB9 remote control ports built in. Internal DIP switches allow the VDC data paths to be configured for a variety of uses, including passing control data for remote Yamaha AD8HR microphone preamps with compatible Yamaha digital consoles.
Note: While the 01v96 and 02R96 digital consoles are compatible with the 6416Y2 Card for digital audio I/O routing, no provision for controlling remote preamps via RS-422 is available on these consoles.
Note: The two-slot LS9-32 console sends head amp (HA) remote control data from the console's backplane only to expansion card slot #1of the console. This means that when using m-control, the 6416Y2 card that is set up for m-control communication must be installed in slot 1 of the console.
World Class Clocking
Pro64 audio networks featuring 6416Y2 A-Net Cards can be configured to slave to a host console or to pass clock information to the console through the card slot interface. All Pro64 products feature Aviom's exclusive clock management algorithms, ensuring pristine clocking throughout a network, including console-to-console communications.
6416Y2 A-Net Cards can be connected to the rest of the Pro64 network serially or in parallel, using a Pro64 Merger Hub such as the MH10 or MH10f.
Important Note: The original A-16 Personal Mixer (discontinued) is not compatible with the 6416Y2 Card even when connected to the ASI A-Net Systems Interface. Some early A-16R Personal Mixers built prior to the release of the Y1 card are also not compatible. Contact Aviom Customer Service for additional compatibility info.
Compatibility
The 6416Y2 A-Net Interface Card is compatible with the following Yamaha digital products. Note that the number of 6416Y2 Cards that can be used in each Yamaha device may be less than total number of available MY card slots in some cases. (Yamaha's recommendation for the number of cards that can be installed simultaneously in each product is based on the power available from the host's power supply.) 6416Y2 card is not compatible with Yamaha's DIO8(PM1D), AW2816, and AW4416 products.
Model
MY Slots
6416Y2 Cards
DM2000
6
5
02R96
4
3
DM1000
2
2
01V96
1
1
DME24N **
1
1
DME64N
4
4
PM5D/PM5D-RH
4
4
M7CL
3
3
AW2400
1
1
LS9-16
1
1
LS9-32
2
2
CL1
3
3
CL3
3
3
CL5
3
3
 
 
 
 
 
 
** To use a 6416Y2 Card that has a serial number before #10099 with the DME24N, contact Aviom Customer Support for upgrade information.