KEYBOARD LEGENDS REDISCOVERED
Bringing together over 100 years of landmark keyboard instruments in one software package, the sounds behind every hit, every genre, and every musical movement are now at your fingertips. Painstakingly recreated in beautiful detail, every single instrument in V Collection 6 will blow you away. Faithfully reproduced the way the original components behaved using our exclusive True Analog Emulation technology and class-leading physical modeling, there has never been a more complete, versatile vintage keyboard solution.
Taking each instrument one step further, we also introduced some incredible, optional new features to these hallowed classics, like allowing monophonic synths to become polyphonic, integrating arpeggiators, extra oscillators, LFOs, filters, and more. You'll also find over 6,000 incredible preset sounds, created by some of the most prestigious, acclaimed sound designers in the industry. Whatever keyboard sound you need in your track, V Collection 6 has you covered.
The best of the best
Every gear-lust inducing keyboard and synth you ever craved is available; right here, right now.
Ever heard a song and wondered what keyboard they used? Chances are, it's been recreated in V Collection 6. Inside, you'll find analog synths, modular marvels, revolutionary digital synths, sublime acoustic and electric pianos, organs, and even a string machine. Each one a legend, and each one capable of revitalizing your creativity and transforming your musical palette.
V Collection 6 gives you the keys to your very own private keyboard museum. What will you create?
Down to the smallest detail
Mapping out and recreating every circuit, component, nuance, quirk, and spark of magic takes time and dedication. V Collection 6 lets you take full advantage of Arturia's passion for vintage keyboards.
Using exclusive modelling technology, known as True Analog Emulation®, as well as the latest physical modelling techniques, Arturia's developers and engineers were able to perfectly recreate every element of these classic instruments. From the intricacies of the analog components and circuitry, to the character-defining reactions of the strings, cabinets, and speakers, Arturia have recreated these classic keyboards in stunning detail.
To get closer than any other virtual instrument on the market, we worked alongside masterminds like Cameron Jones and Bob Moog to ensure our software recreations were faithful to their original visions. This dedication means that whatever instrument you load up, whatever sound you're searching for, we payed tribute to the original machine. We built upon its legacy. We added a new generation of features that open up exciting new possibilities to the contemporary musician.
V Collection 6 offers you top-tier keyboards without the hassle. No tuning, no maintenance, no repair bills, just pure, creative bliss.
Old dog, new tricks
While recreating 21 legendary instruments in unparalleled detail, we couldn't help but wonder 
"What if?..."
What if this amazing monosynth lead sound was polyphonic? What if we could change the position of the pickups on this Rhodes? What if we added more filter and oscillator options to this classic synth? What if this concert grand piano's wooden cabinetry was replaced with sheet metal? Thanks to the power of modern technology, these optional extras open an exciting new chapter in the stories of these vintage classics.
With V Collection 6, you can use the best instruments in the history of music to create the sounds of tomorrow.
Arturia Software Center
ASC is the central software that elegantly manages all your Arturia software licenses. It activates your licenses and synchronizes them across multiple devices (you get five instances with each instrument license). ASC also notifies you of updates and downloads them. You can even easily learn about new products, download demos versions and purchase the full products. Simple.
TAE® Powered
TAE® "True Analog Emulation" is Arturia's exclusive technology that accurately reproduces the defining sonic qualities of analog synthesizers. It recreates the characteristics of analog oscillators in amazing detail, transparency and clarity, as well as the exact properties of the analog filters that give each classic instrument its unique sound. Soft clipping adds even more punch and presence. TAE® is primarily what makes our virtual instruments indistinguishable from the originals.
Phi Powered
Not all keyboard legends use circuits and analog components. To reproduce the incredible acoustic and electro-acoustic instruments found within V Collection 6, Arturia used state-of-the-art physical modelling technology. By analyzing how each instrument creates its own unique sound, our engineers use advanced mathematical algorithms that recreate every aspect of the original.
Main Features
Includes 21 software titles: Analog Lab, Clavinet V, CMI V, DX7 V, Buchla Easel V, Synclavier V, B-3 V, Mini V, Piano V, Stage-73 V, Matrix-12 V, Farfisa V, Solina V, SEM V, Wurli V, Jup-8 V, ARP 2600 V, CS-80 V, Prophet V, VOX Continental V, Modular V
Each virtual instrument in the V Collection can be used as a stand-alone application or as a VST, AU or AAX plug-in
Redesigned browser for fast access to sounds
High resolution graphic interfaces, compatible with very large displays
All instruments share a common interface for browsing, editing (save, import, export, ...)
Easy MIDI mapping to any keyboard controller.
Easy install and licence manager : Arturia Software Center.
More than 6000 high-quality and innovative sound presets.
Analog Lab - All presets of the V Collection 6 can be browsed and edited from a single interface
Arturia's proprietary technology, TAE®, ensures that each analog modeling instrument sounds and behaves exactly like the original.
Manuals in English, Japanese and French
Details
V Collection 6 is the latest chapter in Arturia's never-ending love letter to the vintage keyboard. What started as a challenge to mimic the System 55 along with Robert Moog became an obsession, and started a journey that has been shared by thousands upon thousands of musicians all around the world. Musicians like you.
More than 14 years into this journey, with 21 incredible software titles released, the hunger and passion from both Arturia and our customers is still there. Why the appeal? Legends never go out of fashion, it's as simple as that. Just as fabled Stradivarius string instruments, inspirational Eames armchairs, and elegant Brâncuși sculptures, a classic synth, piano, or keyboard never goes out of date. They are true works of art, and through the tireless dedication of Arturia's engineers, they live on through the wonders of software.
Now you can be part of keyboard history
In every instrument, you'll find an instantly recognizable, addicting sound.
One of the biggest challenges with reproducing existing pieces of gear is in making them truly feel like instruments. It's about more than just the sound, there's an element of magic to vintage instruments, a little je ne sais quoi that makes them feel so vital and exciting. At every step, we have strived to recreate this electric feeling, the pure joy and wonder of getting up close and personal with a legend.
Every single instrument in the V Collection features a magnificent interface, aesthetically matched to the original keyboard, and packed with knobs, switches, buttons, faders, and dials that just beg you to touch them. Whether you take advantage of the intelligent pre-assigned parameters in our KeyLab, KeyLab Essential, or MiniLab controllers, or make use of the easy MIDI Learn function, you'll have full expressive control.
Software doesn't have to stay trapped 'in the box', and paired with your choice of MIDI controller, V Collection 6 was made to break out of it.
Living, breathing instruments, not just samples
This all-star collection of award-winning modelled instruments reproduces the actual characteristics of the original hardware.
The organic nature of analog, acoustic, and electro-acoustic sound is extremely difficult to reproduce authentically with digital technology. Years ago, samples were the only option, but by embracing the power of modern computers, we are able to create virtual instruments that reproduce the complex nuances and subtleties that define the original instrument. Through our critically acclaimed True Analog Emulation® technology and physical modelling techniques, we are able to faithfully emulates the actual physics and circuitry of vintage instruments. From transistors to tubes, pickups to preamps, strings to cabinetry, we have created software instruments that are virtually indistinguishable from the originals.
V Collection 6 gives you the tonal flavor and richness of analog sound with all the benefits of modern, digital technology.
Improving on perfection
Every single instrument contained in V Collection 6 hasn't just been recreated, it has been reimagined.
While being careful to stay true to the original, unique sound of each keyboard, each instrument benefits from new features and enhancements that are only possible through software. Want to turn that classic monosynth into a polysynth? No problem. Wish there were more oscillator voices, or an extra LFO to play with? We've added them. Would that organ sound better through a nice guitar amp and some effects? We've included that too.
You'll often hear die-hard synth fans discussing killer features that they wish their favorite instruments had. We are the fans, and we made it happen.
Analog Lab: your creative hub
Imagine having every sound from this incredible collection of retro marvels in one place, easily accessible, and - above all - fun to play.
The latest incarnation of Analog Lab gives you instant access to the 6,000+ preset sounds contained within all of the V Collection instruments, and lets you browse, navigate, and audition every one with ease. You'll never be stuck for inspiration again.
Combining superb controller keyboard integration, lightning-fast sound browsing, powerful combo sounds, and quick access to every sound's most important parameters, Analog Lab will become your go-to keyboard plug-in.
In addition you can edit each sound in-depth from within Analog Lab should you own the original software instrument. Let's say you want to tweak a very specific parameter of Prophet 5 sound, well, it's possible to open the interface inside Analog Lab.
The latest version of Analog Lab also gives you access to the Sound Store, Arturia's ever-growing collection of soundbanks, including sounds created by big-name artists, top sound designers, and even tributes to your favorite legendary key & synth players.
Analog Lab is your one stop shop for ultimate keyboard creativity.
Featuring the best sounds from the entire V Collection under one roof, there has never been a more powerful, complete keyboard solution.
If you prefer to play rather than experiment, Analog Lab 3 is everything you could dream of. If you discover a sound and want to dive a little deeper, you can open the full V Collection instrument at the touch of a button.
21 outstanding, legendary instruments
We have spent many years and countless hours bringing this collection of vintage instruments back to life, and they are ready for you to spend a lifetime exploring them.
No matter the genre you play or listen to, the instruments featured in V Collection instruments will have helped form it. From rock to psychedelic pop, industrial to jazz, hip hop to electronica, our labour of love gives you the momentus, defining sounds that shaped the course of popular music for over a century. Here, you'll find the full contents of V Collection 6. As you can see, it's a solid gold hit-list of synths and keyboard legends.
With the complete V Collection, you're fully prepared for wherever your musical journey takes you.
Preset browser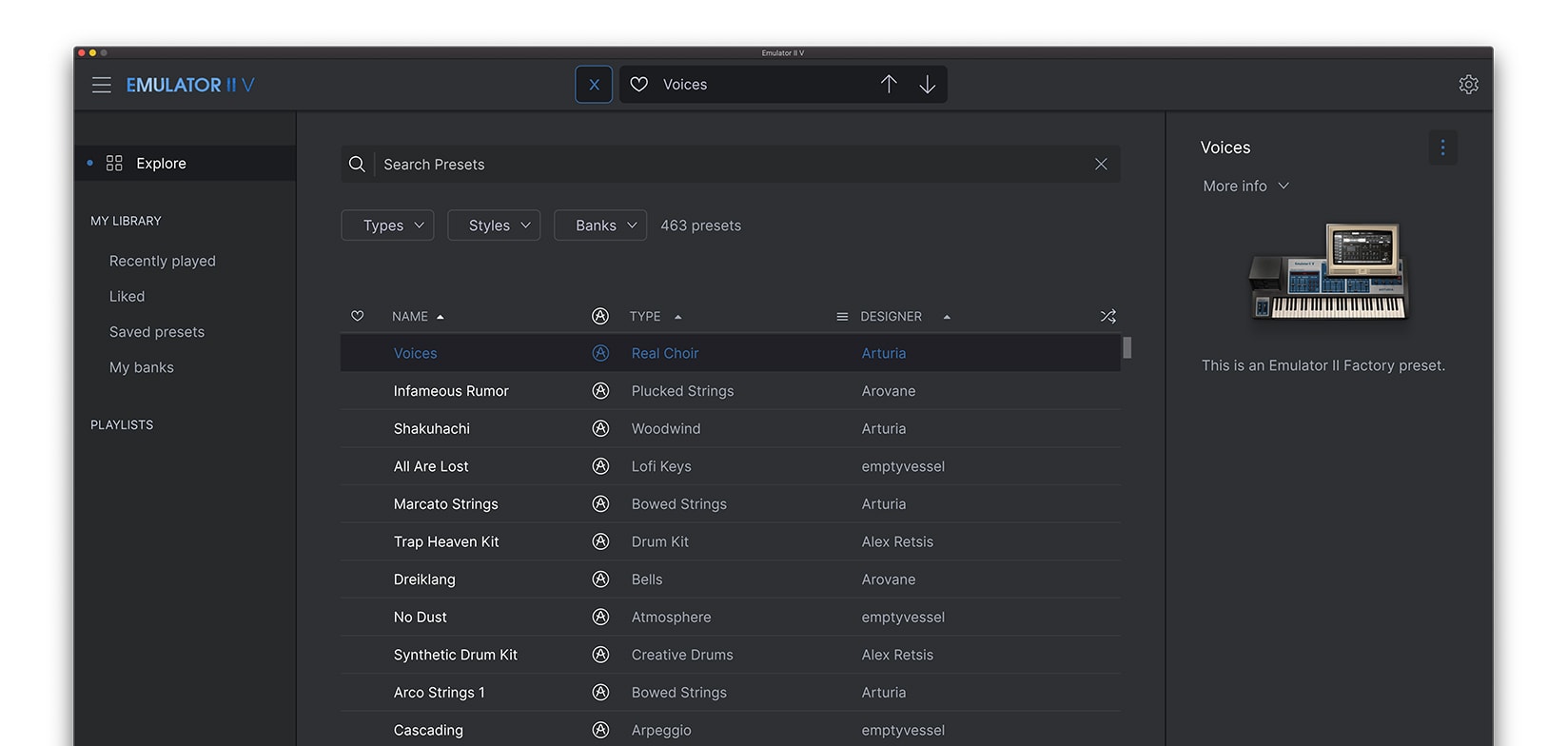 Our redesigned preset browser lets you quickly find just the sound you're looking for.
Search by name or simply select the appropriate tags to dial in on the exact sonic character you're looking for. You can mark and recall your own favorites, enter comments, and set up playlists. There's never been a more intuitive way to manage your library of designer and personal presets.
Resizable GUI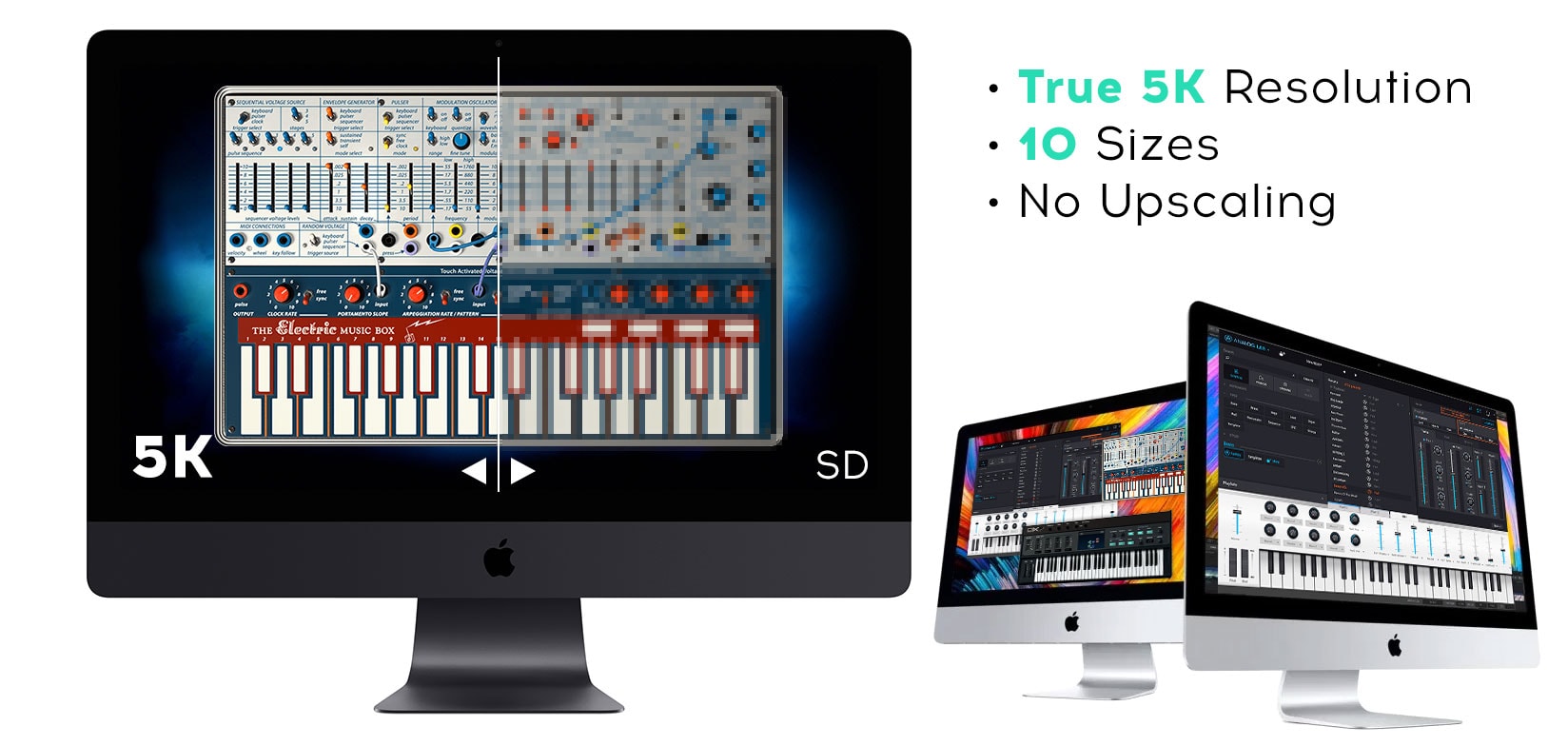 The user interfaces for all your Arturia instruments are now resizable, making it easy to work with any High Resolution screen, UHD or Retina.
You can decide whether you want to fill the screen with awesome graphic reproductions of classic instrument goodness, scale the window down when you're working in a DAW and screen real estate is at a premium, or even zoom for detailed work.