The secret to professional sound
As every modern music producer knows, the sheer amount of software plugins available seems almost limitless.

There are a bewildering number of effects out there. Some you'll love, others you'll use a few times until something new comes along. Some are simply no use at all.

As a company of passionate musicians and producers we feel your pain. That's why we decided to do something about it. We wanted to create a small, carefully curated collection of great sounding plugins that you can rely on. A few effects that would integrate perfectly with your setup, and empower your creativity. 3 Plugins You'll Actually Use.

We have used our award-winning synth & keyboard emulation know-how to focus on modelling the best studio gear of all time. From our combined research and experience, we chose 3 historic preamps, all legends in their own right, each with their own character and benefits, to enrich your DAW. Not only will these plugins offer the tonal character shared by countless chart hits and historic tracks and albums, we have also enhanced them with contemporary features.

These preamps will give you mixing confidence, simplify your creative process, improve your workflow, and give you huge creative control.
The preamps
 


that changed the world
1973-Pre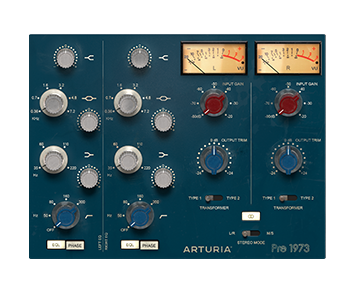 The subtle nuance and tonal flavor added by a vintage preamp can have an amazing overall effect on the music you create.

For years, top producers have coveted the sound of the venerable 1073 preamp. Now - through the power of Arturia's advanced TAE modelling - you too can have a taste of that harmonically rich, classic tone in your DAW.

Devised by visionary electronics engineer and pro audio legend Rupert Neve, the preamp became a staple of the world's top studios, and added its unique tonal flavor to countless hits. It was a revolution in 1970, pioneering the use of reliable high-efficiency transistors to replace the temperamental vacuum tube technology of the time. The sound of the preamp became an instant hit with record producers, sound engineers, and artists the world over, cementing its place in music history.

Continuing that revolution, using their exclusive TAE technology, Arturia have recreated this phenomenal piece of music production history. Capturing and recreating its distinct musical color, its pleasing analog distortion, and its sweet-sounding tone controls, you'll be able to start your virtual signal chain with one of the best sounding pres ever created.
TridA-Pre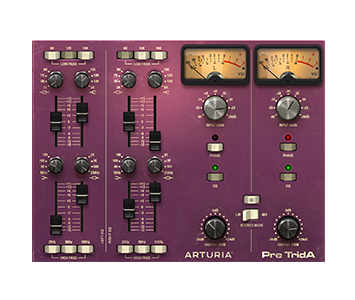 For decades, the concept of pop music was synonymous with Trident® Studios, the pioneering facility in the heart of London's Soho district.

Their client list reads like a who's who of pop: The Beatles, Elton John, David Bowie, the Bee Gees, Genesis, Frank Zappa, Joe Cocker, Kiss, Lou Reed, Peter Gabriel, Marc Almond, Soft Cell, Queen, the Rolling Stones, Thin Lizzy, Tina Turner, T-Rex, and Yes.

At the heart of the studio's sound was the Trident® A Range® console. It became so well known for its gorgeous, musical EQ and the full, rich tone it imparted soon, studios around the world were placing orders for an A Range® of their own. Although only 13 were ever made, they created a legacy that continues to this day.

Now, thanks to Arturia's groundbreaking True Analog Emulation® technology, you too can experience the incredible sound-shaping power of the legendary Trident® A Range® preamp and EQ.
V76-Pre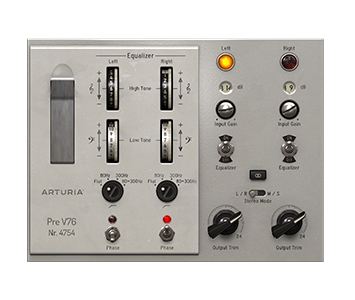 From its broadcast origins to its use on some of the best-selling, most enduring records of all time, the V76 preamp has played a pivotal supporting role in the story of pop music.

Loved by the engineers and technicians at Abbey Road, and incorporated into their iconic REDD mixing consoles, the V76 coveted for that "White Album" sound, every major studio in the world wanted a piece of the action, and tens of thousands of Telefunken preamps were created to meet the demand.

These days, due to scarcity and cost, it's practically impossible for most musicians and producers to pick up one of these legendary preamps. In the same way Arturia built its reputation on recreating legendary, rare synths and keyboards through advanced modelling, we decided to use our TAE® technology to give everyone the chance to experience that legendary V76 sound.

By studying its sound and design, right down to the subtleties of each electronic component, we have created a virtual preamp that brings quintessential vintage tone to a whole new generation of musicians.
A labor of love
Recreating iconic gear as software is no small feat, and enhancing them beyond their original capabilities takes a special kind of passion and dedication.
While highly desirable, these 3 classic preamps have long been out of reach for many musicians, producers, and engineers. We are award-winning modelling experts, and one of our missions as a company is to bring the sound of iconic instruments out of the realms of obscurity, and into the hands of as many musicians as possible. Now, with 3 Preamps You'll Actually Use, we extend our promise to studio gear by creating the definitive software recreations of this historic, influential equipment.
To achieve our goal, we really did our research. We were hunting for just a few very special preamps, equipment that changed the face of music as we know it. We travelled far and wide, studied the originals, spoke to the engineers who know them best, and were meticulous in our methodology and modelling. Our search for perfect vintage tone led us to studios in London, Paris, and Copenhagen, where we able to get up close and personal with the Trident®, Telefunken, and Rupert Neve classics. As soon as we heard them in action, we knew we'd found what we were looking for.
Now it's your turn to discover the inimitable joy of vintage signal processing for yourself.
Arturia Software Center
ASC is the central software that elegantly manages all your Arturia software licenses. It activates your licenses and synchronizes them across multiple devices (you get five instances with each instrument license). ASC also notifies you of updates and downloads them. You can even easily learn about new products, download demos versions and purchase the full products. Simple.
TAE® Powered
TAE® "True Analog Emulation" is Arturia's exclusive technology that accurately reproduces the defining sonic qualities of analog synthesizers. It recreates the characteristics of analog oscillators in amazing detail, transparency and clarity, as well as the exact properties of the analog filters that give each classic instrument its unique sound. Soft clipping adds even more punch and presence. TAE® is primarily what makes our virtual instruments indistinguishable from the originals.