Your go-to choice for creative filters
If you're looking to spice up your tracks, add a bit of excitement to your audio, or just get a bit of tone control, the choice of plugins can sometimes be a bit overwhelming. There are hundreds, if not thousands of plugins out there, but which one will be right for your music?

As a company full of musicians, we're faced with this choice almost every day. Wouldn't it be fantastic to be able to narrow our selection down to just a few titles? Titles that we knew were feature-packed, sounded awesome, and could be relied on. Titles that not only offered exciting modern features, but also gave us access to the sound of timeless analog tone controls. Titles that encouraged your creativity, instead of holding it back.

This is why we created 3 Filters You'll Actually Use. Our heritage of accurately emulating vintage synths and bringing them back to life as software gave us the perfect starting point. To make our award-winning software instruments, we analyzed and recreated every aspect of some of the most legendary synths ever created, including their coveted analog filters.
Meet the filter dream team
Mini-Filter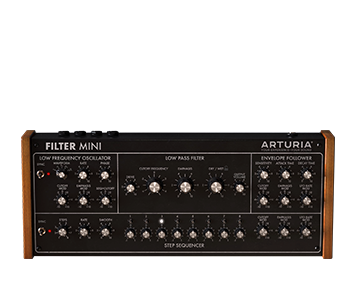 Dr Moog's iconic, smooth ladder filter, accurately recreated and updated with modern features.
SEM-Filter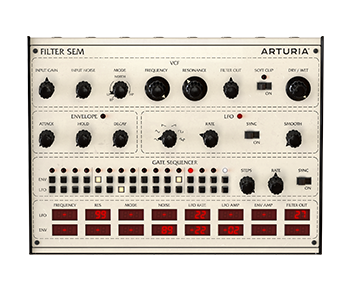 Simple, great-sounding state-variable filter with mode blending, analog soft-clipping and mod matrix.
M12-Filter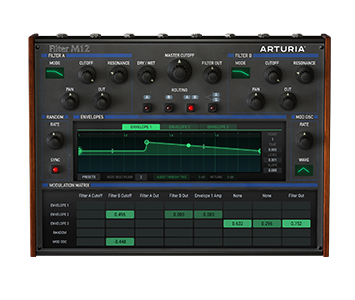 The master of complexity and depth, Tom Oberheim's legendary 80s filter on steroids.
Straight from the glorious days of the analog synth, the tone-controlling power of these 3 filters were immortalized in the Matrix-12, Bob Moog's synth, and SEM.
Rocketing forward through time, the inimitable sound of these filters is now available as a standalone plugin, ready to change the way you create and mix music, and to become your go-to choice when you're looking for ways to creatively control the frequency content of your audio.
Iconic synth sound-shaping on any audio source
Beautifully recreated vintage effects don't come easy.
Using our exclusive TAE modelling technology, we are able to map out the sound and behaviour of electronic instruments, right down to the level of individual components, to create accurate software emulations of these groundbreaking synths and keyboards. As our modelling methods examine the core components, we found that we were also able to isolate certain features. The thought of using Dr Moog's famous ladder filter, or one of Tom Oberheim's multi-mode marvels on any audio source in our DAW excited us. We thought it would excite you, too.
With 3 Filters You'll Actually Use, we not only give you access to these fabled filters, we have also fleshed each plugin with creativity-focused bonus features that take them all to another level. From M12-Filter's modulation matrix and programmable envelopes to Mini-Filter's sequencer, we know that you're going to love exploring and experimenting with these filters to enhance your music.
Each plugin combining classic tone control with exciting modern functionality, so that whenever you need a filter in your productions, Arturia has you covered.